Vegas Pro – Stuck Building Peaks Fix
Some users have reported issues with Vegas pro and it getting stuck or crashing while building peaks.
This is either during opening a project or importing media to the project / timeline.
This appears to be occurring on files with more than one audio stream. Commonly found with NVIDIA ShadowPlay recordings.
A workaround to allow Vegas to process the file is to disable "Audio  Event Waveforms" from the view menu or pressing Ctrl + Shit + W.
This would need to be done from an empty project before trying to import the files causing the crash or before opening the project file.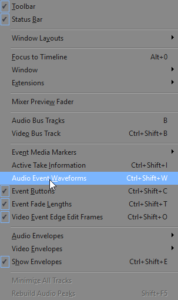 This has been tested on Vegas pro 14.0 build 270.
---
Sponsored Links